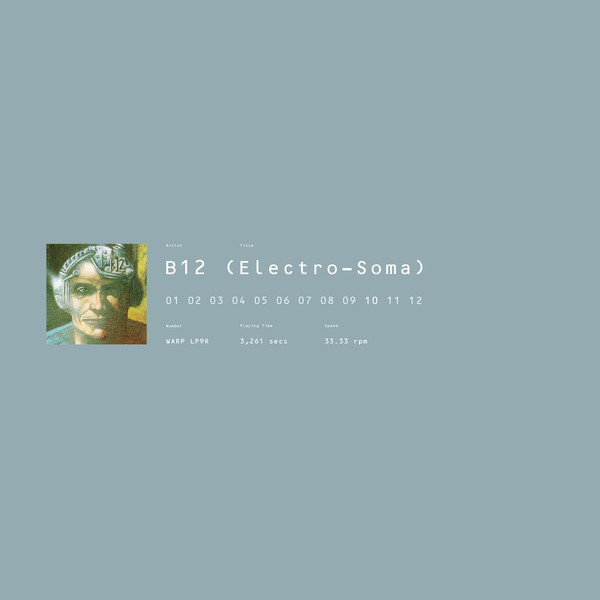 B12
Electro-Soma
Out of stock
Product Description
" As Detroit techno first made its mark in the UK, a unique scene sprang up around London-based artists such as Mark Broom, Baby Ford, Kirk Degiorgio and The Black Dog. Steve Rutter and Mike Golding were products of this inspired time in UK club culture, feeding off East London acid house parties with Jamaican MCs toasting, where Frankie Bones' Bonesbreaks records were played alongside early Production House hardcore. Out of this curious melting pot, these producers took the Motor City's romantic machine-soul melodies and injected strange breaks and intricate programming into the mix.
It was the allure and mystery of Plus 8 Records that inspired Rutter and Golding to start B12 Records with a flurry of pseudonyms. The impeccable emotive techno on their early releases drew the interest of Warp Records, and they were signed as part of the vaunted Artificial Intelligence series alongside Autechre, Aphex Twin, Richie Hawtin and Speedy J. Their career has included long periods of inactivity since then, but in the last two years they've been particularly prolific.
This latest renaissance of B12 can in part be attributed to a new generation that have discovered their sound—the strain of deep, electro-infused techno from early '90s London has found a new home in the minimal scene. That speaks to the timeless quality of the music—for all the lofty strings, pads and sci-fi themes throughout B12's music, it feels as fresh now as it did more than two decades ago.
Electro-Soma, first released in 1993, is a collection of tracks Rutter and Golding released between 1991 and 1993 as Musicology, Redcell and 2001 (among other aliases), hand-picked by the late Rob Mitchell at Warp. (12 tracks from the same period have been compiled in a separate companion piece, Electric-Soma II.) There's no arguing with Mitchell's taste or the strength of the material he had to work with. Still, the range of B12's sound at the time is striking. "Mondrin" is unabashedly sweet, its graceful melodic interplay showing off the vast array of synths in their studio. "Obsessed" remains a highlight of their catalogue, a pitch-perfect party track with optimistic pads and an acid bassline to die for.
"Metropolis" makes a direct connection to the moodier sounds of the UK underground that acts like B12 sprung from—the dark, discordant string riffs, nagging acid and angular beats boldly expand on the blueprint of rough and ready early hardcore before it got sped up and pumped full of breakbeats. By contrast, "Basic Emotion" and "Drift" are excellent examples of how mellow B12 could go, encapsulating the home-listening ethos of Warp's Artificial Intelligence series.
Much like the seminal works of Juan Atkins, Derrick May and Kevin Saunderson, the magic in B12's music seems to come from an imagination fed on classic science fiction. It's referenced in track titles such as "Soundtrack Of Space" and "Bio Dimension," and the dystopian cityscape depicted on the album's inlay. It's also there on a deeper level with the nod to soma, a fictional hallucinogenic drug from Aldous Huxley's Brave New World. (Its inclusion in the album title was Mitchell's idea.) The themes of hope, escapism and social commentary that define classic science fiction are as relevant now and they were a century ago, which perhaps explains why Electro-Soma continues to strike a chord with successive generations of electronic music lovers. "
Oli Warwick | Resident Advisor