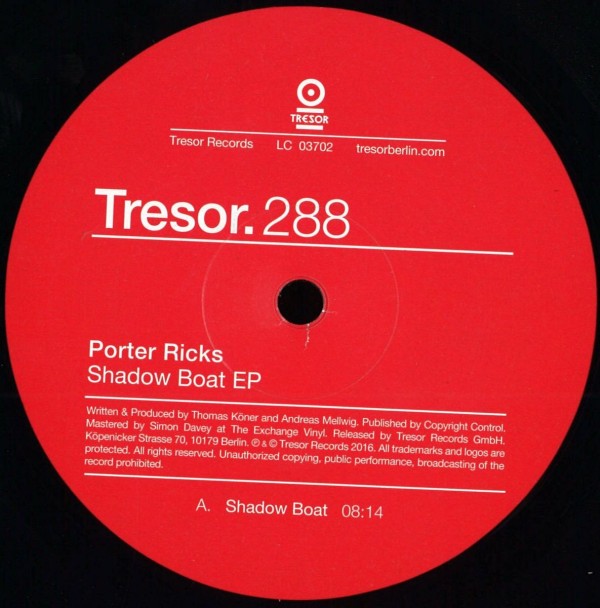 Product Description
Following a seventeen year hiatus since the release of Symbiotics on Mille Plateaux in 1999, Porter Ricks returns with a new EP on Tresor with plans for another release this coming year. The duo comprises of sound artist Thomas Köner and music producer Andy Mellwig.
During the duo's silence, Köner has been working extensively as a sound designer and artist – exhibiting at among other places the Centre Georges Pompidou and The Louvre. Mellwig's other projects include collaborations with Kevin Shields of My Bloody Valentine, Pete Kember of Spacemen 3 and former Monolake member Gehrard Behles. Porter Ricks is undoubtedly the central item in their musical careers, setting a high-water mark for experimentally tinged pulsating techno.
Shadow Boat is deeply nuanced in its perception of space, using complex layers to add depth, detail, and density to non-formulaic techno compositions: buoyant dub, hazy ambience, and colorful sound design renders the project a diving platform at the intersection of club music and art. Though perhaps more focused on rhythm and melody than their experimental touchstone Biokinetics released 20 years ago on Chain Reaction in 1996, this most recent installment employs equally subtle artistic sensibilities that transcend the styles that typify contemporary electronic music.
Köner and Mellwig reveal the EP on the heels of a recent performance at Berlin Atonal festival, marking a new tide in their pace of output. The gap between Porter Ricks' releases, however, has proven that extended periods in the studio devoid of the pressure for consistent delivery permit the time to craft a very sophisticated sonic fabric. Shadow Boat, as if carried by a current, drifts in cadence with Porter Ricks' earlier releases as though pulled by a gravitational force spanning the stroke of time.